Our Story
JP Graphics' journey began as Jim's Printing in the basement of Jim and Rochelle Stoffel's home. Over the years, we transitioned into a quick commercial print environment with a strong emphasis on customer service. In 1990, our company welcomed Rod Stoffel, who later purchased the business in 1998 and rebranded it as JP Graphics. Our expansion continued as we acquired Pro Graphics Printing Inc. in 2000 and Mastercraft Inc. in 2002. Recognized for our dedication to excellence, we were awarded the Fox Cities Chamber of Commerce Small Business of the Year in 2003. Our commitment to growth and innovation never wavered, leading us to acquire Graphics Communication Center in 2004 and moving to a beautiful 50,000 square foot production facility. We continuously invested in advanced equipment and technology, including the first US installation of a complete JDF driven MIS system in 2008 and a brand new 6-color Komori G40 press in 2014. We were honored to receive the Manufacturing Business of the Year award from the Fox Cities Chamber of Commerce in 2018, cementing our reputation as an industry leader.

We are thrilled to announce that JP Graphics, a privately held commercial printer with a rich history dating back to 1969, has been acquired by BR Printers of San Jose, CA, on March 1st, 2023. This exciting development marks a new chapter in our journey to provide unmatched print and packaging solutions to our valued clients.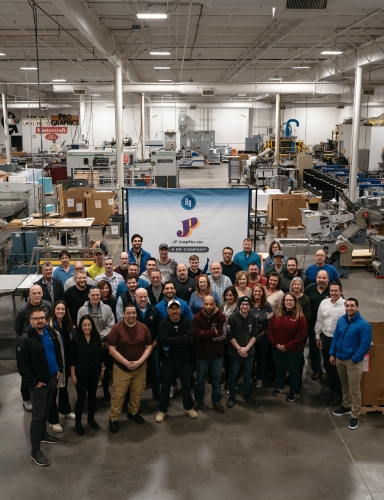 For over 54 years, JP Graphics has been a driving force in the commercial print market, offering a wide array of services, including offset, digital, and large-format printing, as well as robust packaging capabilities. Our expertise in custom folding carton packaging and packaging accessories has made us a trusted partner for clients in the food and beverage, health and wellness, and consumer goods industries.

BR Printers is a leading provider of print and marketing services, promotional products, value chain, and logistics management, catering to some of the most recognizable names in the publishing industry. With our integration into BR Printers, we aim to diversify our offerings and further elevate our value to the print community and clients. Our expanded capabilities in digital print and packaging services will enable us to deliver even more innovative and exceptional solutions to our valued customers.

At JP Graphics, we remain committed to our core values of outstanding customer service, unwavering quality, and innovative solutions. Our passionate team, combined with BR Printer's national footprint and solution-centric focus, will allow us to leverage data and technology while maintaining an appreciation and respect for traditional print craftsmanship.
Certifications & Awards
Location & Hours
3001 East Venture Drive
Appleton, WI 54911
Phone: (920) 733-4483
Fax: (920) 733-1700
Hours: 8-5 M-F
This site includes many functions that allow you to work with us from your office or home. Of course, it's sometimes still necessary (or preferred) to conduct business in-person. If you prefer to set up an appointment to have our sales consultant meet with you one-on-one at your location, call (920) 733-4483 or email support@jpinc.com.
Connect With Us